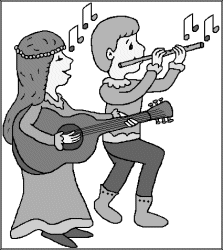 8. Jeena
The terrain gratefully changed after a while as Mika began to climb tall hills that led to valleys and to mighty mountains. And all the while the path led him on. Then one day Mika heard another pretty song that was even sadder than Clarisse's had been. He walked closer.
SADNESS AND SORROW
THAT'S THE WORLD I SEE,
SADNESS AND SORROW
IT'S TOO MUCH FOR ME...
Mika walked slowly forward. Life on Algor had always been happy. But maybe here in these strange lands people weren't as happy as they were in his land. Come to think of it, he was never very content himself. He listened a little more.
I SEE A WORLD WHERE PEOPLE WALK IN LOVE
WHERE THERE'S NO PAIN, JUST LOVE.
SADNESS AND SORROW I'M TIRED, OH I'M TIRED
PLEASE SHOW THEM THE LOVE IN MY DREAM.
"That was very pretty, but very sad," Mika said slowly.
The girl looked up from her guitar. "Hello," she said softly. And she told him her name was Jeena, and she was looking for the Perfect Place. A land where there is only love and joy and peace.
"That sounds like quite a place," Mika agreed.
"How about you? What are you searching for?" she asked.
"Um...Gumba the Wise," Mika said slowly. "But to tell you the truth, I'm not really sure anymore what it is I'm looking for." Then he told her the story of Algor, and how duty called him to be the Royal Prince and to marry the Queen-to-be of Zebron, and how he was sure other destinies awaited him.
She smiled. "Perhaps this Gumba can help me to find my Perfect Land. I've been looking for quite a long time. May I walk with you to see him?"
"Yes, of course! If anyone can tell you where that Perfect Place is, then I am sure it is Gumba the Wise!"
"Besides," she added, "alone a journey can be a lonely trip, but with another it's an adventure."
"Yes," Mika smiled, thinking of the friends he had already left behind.
And so the two travelers set off, and while they walked Mika would play Clarisse's flute and Jeena her guitar. And sometimes Mika would play her guitar as he did in days of old on Algor.
Days passed quickly by and then the supplies were all gone and the flask of Rest was empty, and the two travelers fell fast asleep.
---