1. Algor
Once life was simpler, and every one in the land of Algor was happy. Every one, that is, except Mika, the King's son. Mika lived in a time when people knew their place in the way of things, and anyone could find fulfillment in what they did. But Mika didn't like to study the things that Princes study. Not that it was at all hard for him, he just found it more pleasing to play his guitar and to paint the beautiful landscapes of Algor. And most of all Mika liked to dream.
"You're too much of a dreamer!" Gorzak the King told his son yet another time. "You are my oldest son. I'm counting on you to rule Algor and to do all of the things that you must."
"Like marry Rimka of Zebron."
"Yes, exactly. Why every King-to-be of Algor has married every Queen-to-be of Zebron. You know that."
"But father, I don't love her."
"You love someone else?"
"Well, no. It's just that someday, well somewhere, my One True Love is waiting for me."
"My son the dreamer. You will marry Rimka of Zebron, or you will no longer be my son."
And that was that.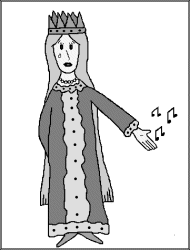 Marna, the Queen, was a kind, loving Queen. "Oh, Mika," she assured him. "Your father doesn't mean what he says. He loves you. It's just that Tradition...Well, there is a certain way that things are supposed to be."
"I know, Mother. But I have to go away. You know that, don't you?"
Mika could see the tears in his mother's eyes. "Well, I don't really understand, Mika. But I know you must do what your heart tells you to do." She sighed. "We will always love you." And she had the servants gather the finest traveling pack. She kissed her son, and asked that he take with him her song:
"I'll miss you, but I know you must go
to follow your dreams wherever they lead you.
I'll always love you, my love will go with you
wherever you are, wherever you go...
CARRY MY LOVE WHEREVER YOU GO,
CARRY MY LOVE WITH YOU,
CARRY MY LOVE AND WHEN YOU'RE DOWN

MY LOVE WILL CARRY YOU...
I love you, and I always will,
And I'll be here waiting,
till your dreams bring you back to me."
And with one last kiss Mika set off on his journey.
King Gorzak looked down from the castle's tower. He watched Mika riding slowly into the distance. "Farewell my son. I hope you find what you are searching for," he whispered.
---